Following the controversy surrounding the Ched Evans conviction, many people are voicing their opinions that he should be DBS checked. But why can't he?
For those of you unaware, a DBS Check allows employers to make a safe recruitment decision and prevents unsuitable people from working with children and vulnerable adults.
There are three levels of DBS checks:
Basic: Which is available for everyone to obtain as an individual.
Standard: This check is done through an employer, mainly for finance, legal, security roles and anyone working on an NHS setting who do not provide care.
Enhanced: Again, this is done through an employer for employees who are working in regulated activity ,mostly for teachers, doctors, support workers. Anyone who is providing a duty of care to children or vulnerable people, be that in a care home, hospital or school.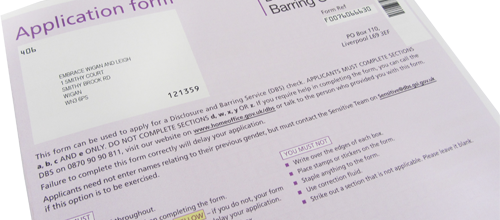 Evans, who was convicted of rape in April 2012 and was released in October 2014, after serving half of his five year sentence, started training with the league one team Sheffield United, his former club, at the end of 2014. This was amongst rumours that they would re-start his contract. After hearing this, three patrons resigned, sponsors threatened to leave and more than 157,000 people signed a petition demanding they refuse to sign him, which the club decided to do.
On Thursday 8th January, Oldham Athletic announced that Ched Evans will not be signing for them. This was followed by a backlash of comments on social media regarding Evans' place as a role model to young children, which has lead many to believe he should have a DBS Check to the same level of teachers.
ChedEvens Why don't we have a rule insisting all pro footballers must pass the same checks as teachers, Disclosure & Barring Service (DBS)?
Tweeted by LTFvv follower of @CRSChecks
He could obtain a basic check which would show all of his un-spent convictions, as the enhanced and standard would however, as he is not providing a duty of care to young children or adults, or working in a setting where he needs to be DBS checked, he cannot obtain that level of check.
But this voices the question of why there isn't any rules for footballers, pop stars and other celebrities to obtain a DBS check. The simple answer is, they don't necessarily need one. They do not provide a duty of care for people and at public appearances they are always accompanied and never alone. It is at the schools discretion as to who they allow to come into contact with the children and whether they need a DBS check to enter the school. Coaches at football club are entitled to an enhanced DBS check as they are providing support and guidance, however the players are not.
Follow us on LinkedIn at http://tinyurl.com/m7z2bqg or tweet us at @CRSChecks would appreciate your feedback.